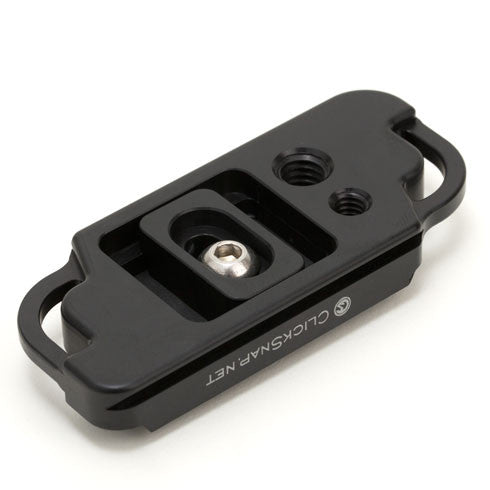 Recon Camera Plate
The new Recon Stealth Universal Camera plate attaches to the underside of your camera and makes the perfect connection on all standard Arca Swiss style tripods heads. The Arca Swiss Quick Release System has become the go-to standard for high quality tripods and provides a rock solid connection to your camera. The Recon design incorporates strap mounting locations on both sides of the plate for attaching your camera strap and/or hand strap to. By attaching one side of your strap to the bottom of the camera, the orientation of the camera becomes much more comfortable to carry and stays close to your side. No more looking like a lost tourist. By switching to the Recon plate you will be equipped with the finest camera plate on the market. Your camera gear be carried in comfort and ready for your next adventure.
For more demanding technical efforts we also provide two threaded connection on the plate. Both 3/8-16 and ¼-20 threaded holes are available for mounting to tripods, sliders, booms, jibs, drones, helicopters, the space shuttle….. OK just kidding on the last one.
Construction:
Machined Aircraft Aluminum, Black Anodized Finish, Stainless Steel Hardware, Laser Engraved
Specs:
Universal fit for most full size SLR cameras without flip out screen
Arca Swiss Mounting Rail
Dual Strap Connection loops
Threaded Connections: 3/8-16 and ¼-20
Weight: 2oz
Size: 1.5" x 3.5" x .375"
Designed, Machined and Assembled in the USA
Verified Fit for:
Canon 1D, 5D Mark II, 5D Mark III, 5DS, 5DS R, 7D, 6D
Nikon D4S, D4, D3X, D3S, 810, 800, 800E, Df, D750, D610, D600, D300S, D7200, D7100, D7000, D90
And most other full size SLR cameras
Common vendors of Acra-Swiss style heads are, ArcaSwiss, Really Right Stuff, Joby, Jobu, Kirk, Acratech, Giottos, Wimberley, Markins, Novoflex, Hejnar, Sirui, Sunwayfoto, MeFoto and many more.